"Aaron David" Polley, son of Ray Polley and Cindy L Spear, was born in Saint John, New Brunswick, Canada, October 10th, 1987. He was happily united with his wife Amie Sara Polley on August 24th, 2012, in the Sunshine Coast, Queensland, Australia.
He grew up in a musical family that had a long history of accomplished musicians and songwriters. His own writing ability surfaced at the age of 7 when his first musical arrangement was used in a church service as a congregational song.
His musical training started on piano and theory at the age of 7 but he was not happy with the classical direction imposed upon him by his first teacher and ceased taking classes after two years. In his middle teen years, a talented piano performer and teacher rekindled his musical interests allowing him to explore other musical directions. During this time, he flourished under her teaching and his own style on the piano surfaced.
At age 16, he added another instrument to his repertoire: guitar. He learned to play very quickly and was asked to teach at his Uncle's music store, after four months of self-instruction.
Besides the family musical influences, during Aaron's High School teen years as a youth music leader in his local church in Canada, his passion for writing and pursuing a career in Christian Music was continuing to take shape.
Part of that journey of development included his arrival in Australia, which came about from a series of circumstances. After his parents' separation in 1997, his mother's poor health forced her to move to the warmer climate of Australia where she later remarried and became a citizen. Aaron remained in Canada with his father but made yearly visitation trips during his school summer breaks. These trips allowed him to gradually absorb and experience Australia's culture.
Upon the age of 17, he graduated from Fundy High School (equivalent HSC) in Canada in 2005, as a top member of his class, receiving many awards for distinction in extra-curricular activities and academics. He graduated on the Principals Merit List for maintaining an above 90% average for his entire high school career. One of the many awards he received enabled him to study music at any college of his choice. This honour was granted to him by a radio station (98.1 The Tide) who had heard Aaron guest at a local idol competition and was so impressed they offered him a scholarship to further his career.
Upon completion of Grade 12 in 2005, he decided to move to Australia to live with his mother and attend college to became an Australian resident. He was accepted at Hillsong International Leadership College in Sydney for their Worship and Creative Arts program.
In December 2005, he became part of the worship teams at South Coast City Church in Thirroul, NSW. After five months of performing on the music teams as singer, pianist and guitarist, and having an opportunity to play and share his songs, he was put in charge of the department while the Creative Arts Director took a maternity leave. He continued to be involved in the team afterwards and aid in various areas of creative/media ministry. In 2008 Aaron decided to move to Sydney to undertake his 3rd year of college and sew into the life of the City Campus at Hillsong Church.
His versatility on the computer (for which he'd won high school awards) proved to be an asset to his music career: especially since his move to Australia in 2005. Armed with a Roland digital piano, a Maton guitar, a Mac computer with Logic, and a Rode microphone, Aaron was able to write, hone and record his own musical creations.
In his spare time, Aaron assisted in his mother's home business: Black Diamond Tailored Rods Pty Ltd, (in Black Diamond's Media Arts division) as a Multimedia Specialist for 3 years, until mid 2008. In this capacity he built and maintained websites as well as designing and editing commercial DVDs (published in house). He wrote all of soundtrack scores and did the main editing for the video clips.
While living in Wollongong attending college Aaron decided to record his own album. Out of a labour of love for many months a project was born. Aaron's debut CD "I AM FOUND" was released on January 29th, 2007 and is available through various outlets including CD Baby and iTunes. CLICK HERE for details.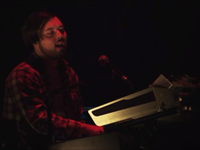 Since the debut album there have been various creative seasons for Aaron's life. He has worked on various side projects for others (such as Girl on The Castle Steps) enjoying doing a lot of co-op, soundtrack, recording gigs. Between 2008 and 2011 Aaron decided to invest most of his spare time serving his local church (Hillsong) along side working full time for My Mac consulting businesses for Apple based business solutions/systems. In his ministry life he has had the honour of serving beside many faithful & creative people and in had the privilege of being of playing on the Hillsong Live album "Cornerstone" in October 30th, 2011. He is forever humbled to be a part of a church and vision much bigger than himself.
These days life consists of serving weekly in church at the Hillsong City Campus, enjoying married life with his wife Amie, and leading in the sphere of technology. This site now features a mix of music, faith and IT related posts to reflect the key elements of what Aaron lives day to day.  To see where Aaron is at in his career, see his LinkedIn page or VisualCV